You can sample our music below. We hope you enjoy it. If you sample a song and wish to purchase it, simply click on the shopping cart to the right of the song you like and you will be taken to the download link where you can make your purchase.
Danse Orientale Project
Turkish, Greek, Arabic, Romany, and original music, includes Belly Dance music.
George Armaos: Harmonica
Michael Gregian: Darbuka
Ken Kalajian: Guitar
Paul Mooradian: Tambourine
George Stathos: Clarinet
Sebastian Steinberg: Bass Guitar
Ron Tutunjian: Dumbeg
Joe Zeytoonian: Oud and Vocals
Myriam Eli: Darbuka and Cymbal
Susan Raphael: Violin.
(American Recording Productions)
Line Out
Featuring master Lebanese-American violinist Fred Elias. Original compositions with wildly improvisational passages of passionate blowing by the trio.
Fred Elias: violin
Mike Gregian: dumbek
Joe Zeytonnian: electric Oud
Ruby Mantra
Dance Meditation compositions for Dunya.
Joe Zeytoonian: oud, electric oud, vocals, synthesizer, hand drums, frame drums, percussion
Falling into Feathers
Dance Meditation compositions for Dunya
Suren Asaturyan: duduk
Joe Zeytoonian: oud, çumbus, baglama, ney, voice, bendir, darbuka, tabla
Southern Arrival
Eastern & avant-garde collaboration / improvisational
Abbey Rader: drumset, ashikos, thumb piano, percussion
Joe Zeytoonian: oud, electric oud, cajita
Kenny Millions: clarinet, saxophone
Myriam Eli: darbuka, riqq
(Third Stream Music)
Our following CD's are available through www.arpmusic.com: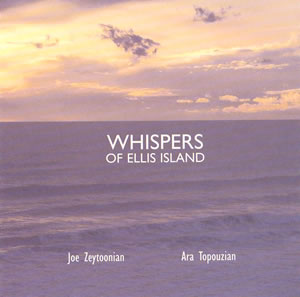 Whispers of Ellis Island: Armenian & Middle Eastern styles.
Featuring Joe Zeytoonian and Ara Topouzian.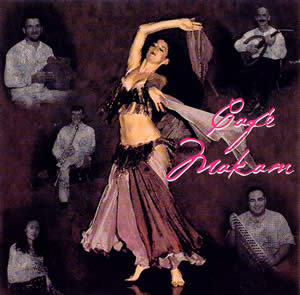 Cafe Makam: Middle Eastern music, includes some Belly Dance music.
Featuring Ara Topouzian, Jim Sotyanoff, Joe Zeytoonian, Mark Sawasky, Myriam Eli.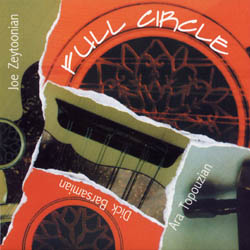 Full Circle: Vignettes of Middle Eastern, Armenian, and original music.
Featuring: Joe Zeytoonian, Ara Topouzian, Dick Barsamian.